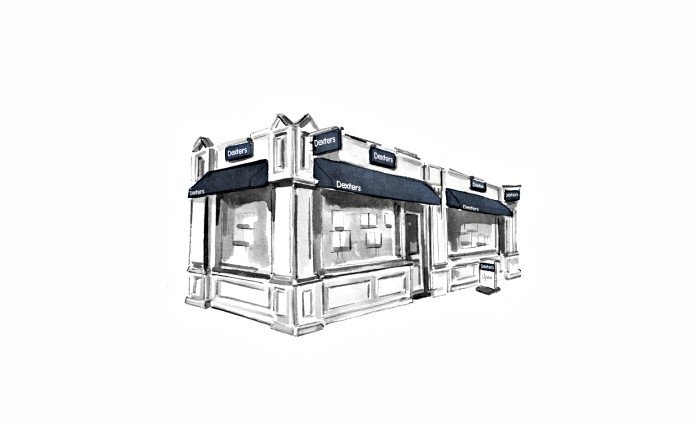 To see points of interest and information on local schools, please use the buttons at the bottom of the map.
Local property guides
Hampton, Countryside Estate, Hampton Hill, The Ormonds, Nurserylands, The Triangle, Hanworth, Hanworth Park, Hampton Court, East Molesey, West Molesey, Hurst Park, Molesey, Feltham
Customer Reviews of Dexters Hampton Estate Agents
Dexters Hampton Estate Agents Customers have rated our service as 5/ 5, based on 134 reviews.
I asked Dexters in Hampton to sell my house. Within 10 days they had marketed it, contacted their extensive list of prospective buyers, arranged many viewings over two days and secured multiple offers.

I was delighted with all of Abby's team, especially Martin and Jaye. They were really inquisitive and interested in the details about my house when they came to see it. Martin and Jaye took note of the key points and no doubt this attention to detail helped Dexters sell the house. I felt like the whole team were really committed and motivated to securing a sale, whilst remaining friendly and professional throughout. The communication from Dexters was clear and consistent during the process.

A special call out to Tom who conducted numerous viewings over a couple of days. I was very impressed with his professionalism and care.

Thank you all!
Mrs.MD Jun 21
We have just completed on our new home and Dexters Hampton were helpful and professional throughout the whole process.
Martin E. in particular was extremely personable, friendly and knowledgeable. He responded
promptly to emails and phone calls and nothing was ever too much trouble.
I would certainly recommend Dexters and wouldn't hesitate to use them should we ever need the services of an estate agent in the future.
Mrs.KK Jun 21
Toby has been extremely helpful, professional and patient with our search so far. He is very proactive and courteous, and has been keeping in touch regularly to update us on relevant properties and support our search. I would highly recommend him and Dexters if you are looking to buy/sell property.
Mr.MD Jun 21
Dexters are in a class of their own!
We have lived on 3 different continents and worked with a number of real estate people and agencies over the years. Some of them were pretty bad, some of them were OK, and in the case of Dexters they are at the top of their field and would recommend them to anyone buying or selling a home.
We have made a recent home purchase and In short, Dexters were simply amazing! We were sort of half looking at houses and Martin, our Dexters estate agent, quickly identified the type of home we were looking for. He worked diligently to find the right properties to show us and in a very shot amount of time we found the property for us. However, the service from Dexters had only begun.
As mentioned we were only half looking for a house, so we were not as prepared as we should have been and this is where Martin and the Dexters team really stepped up. Dexters mobilized the internal team and external partners to enable us to sort out the financing, solicitors, etc. so we could get through the process as quickly and painlessly as possible.
Martin was always there to help move things along and ready to get others involved when needed at critical points in the process. Annmarie, Tom (both of them), and numerous others really jumped into to help move the process along. We owe a big thank you to Martin and the Dexters team in Hampton.
The experience on the home purchase was so good, we also selected Dexters as our letting agent for our other property!
Mrs.SG Jun 21
Toby from the Hampton office was competent, attentive and sympathetic through the whole process both for vendor and purchaser (us). He ensured processes and communication where kept on top of in a relatively complex protracted process, which resulted in the best possible experience and outcome for all.
Ms.KH Apr 21
Friendly staff and very good customer service, I would thank you Jaye and Charlotte for your help.
Ms.S Apr 21
Martin has delivered a peerless level of service and an unsurpassed local area knowledge. Plus, and this is a rarity, completely grasped my requirements. 100%.
Mr.DM Mar 21
The team at Dexters was professional and dedicated. Anne-Marie went out of her way to help us exchange when we encountered some last-minute hurdles with the property we were buying, and Toby was great at handling the sale of our own property. I would recommend them any day.
Ms.SC Mar 21
Tom was very professional, and responded the same day with any questions I had. My flat had a tenant lined up within a week of me contacting Dexters about letting it. I would recommend Dexters if you wish to let your property.
Mr.RH Mar 21
I recently bought a house through Dexters, Hampton branch, and I was very impressed with the service I received. In particular, both Toby and Charlotte made the whole transaction process very smooth and stress free. I would like to thoroughly recommend Dexters in Hampton to anyone considering a property purchase or sale.
Mr.PC Feb 21